THE PROBUS CLUB OF ST NEOTS
"Friendly, Like-minded and Local"
Club Secretary Contact: stneotsprobussec@gmail.com
SOCIAL EVENTS 2022
JANUARY
FEBRUARY
MARCH
Members enjoying their March monthly lunch prior to being entertained with a series of monologues by our guest speaker.
APRIL
The Members Monthly Lunch was held on Wednesday 6th April with 34 members and one guest (Joe Wallace – whom we hope will become a member in due course) being well fed by Jackie and her crew with a starter of Pate, followed by Roast Beef, Roast Potatoes, Yorkshire Pudding, Carrots, Cabbage and Carrots, desert was Treacle Sponge and Custard.
Unfortunately, due to lack of support our planned 10 Pin Bowling event on the 27th April has had to be cancelled.
MAY
JUNE
Wednesday 22nd June 2022 saw 39 members and partners come together at Waresley Garden Centre for a Jubilee Strawberry Tea. Those attending sang the National Anthem, superbly led by Roberts Sibson and Manderson, with everyone singing with gusto, this was followed by three cheers for Her Majesty and then a Royal Toast proposed by our President .
The staff at Waresley looked after everyone wonderfully well and all present enjoyed their scone, clotted cream, jam, fresh strawberries and cream, tea or coffee, with a glass of wine or cordial for the Royal Toast.
Below are some of the photographs of the event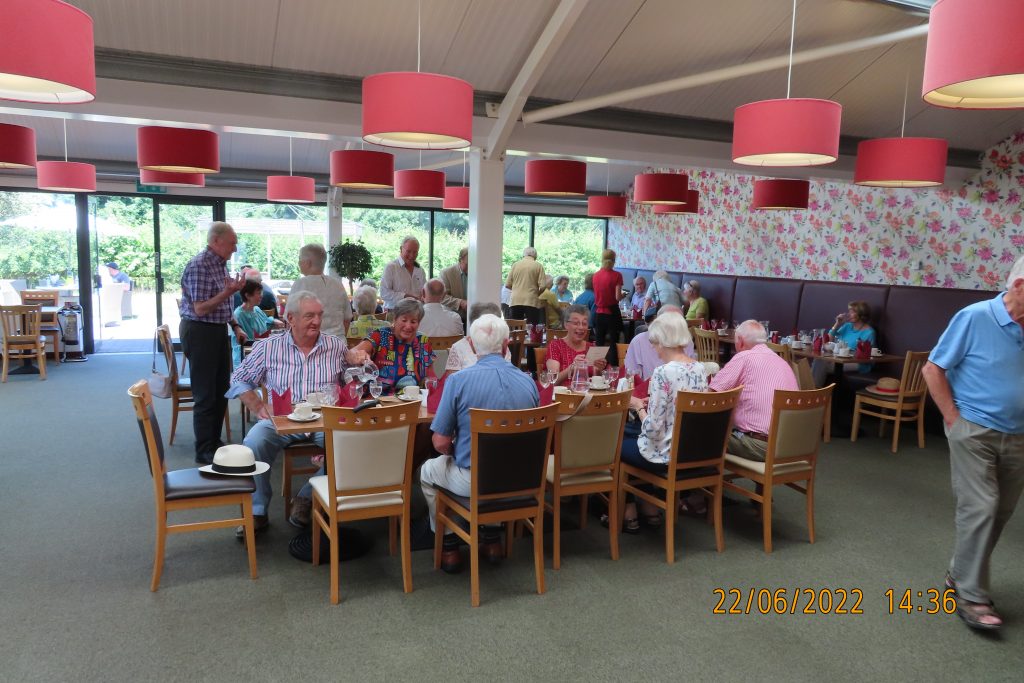 JULY
Wednesday 27th July saw 35 members and partners gather at Bedford Marina to board a coach to the Anchor at Great Barford for a buffet lunch prior to boarding the John Bunyan for a 3 hour trip down the River Ouse back to Bedford Marina. The Anchor provided us with a wonderful buffet selection, followed by a dessert, suitably replete the party moved to the river bank to await the signal to board our boat. Below are some of the photographs of the trip.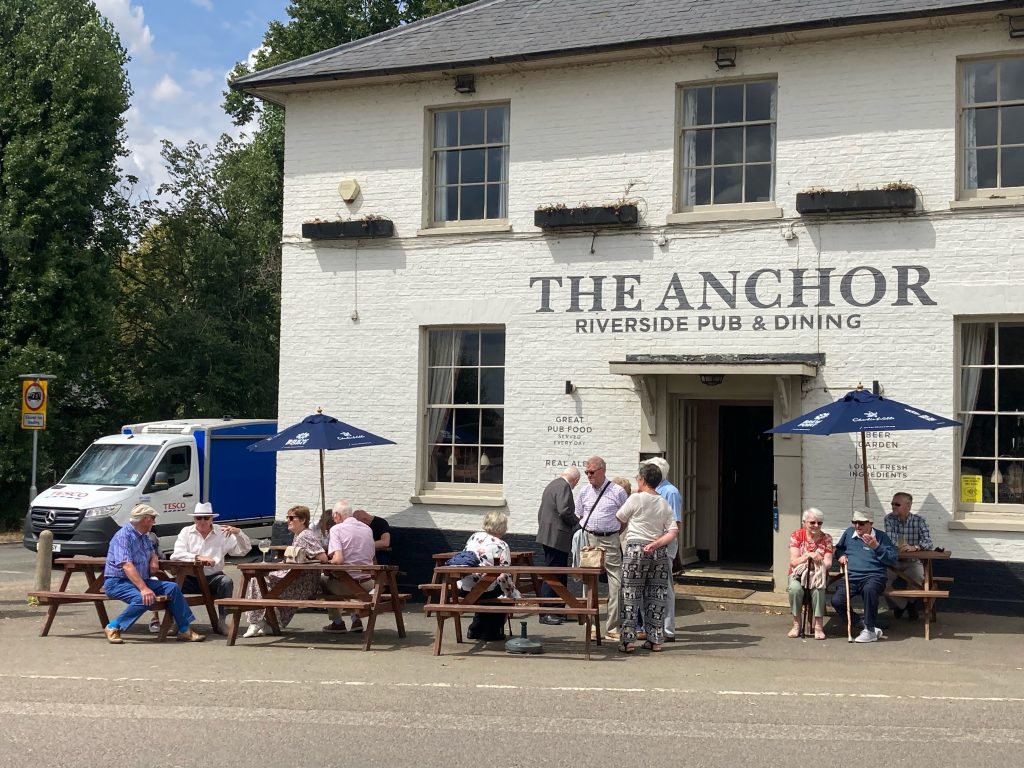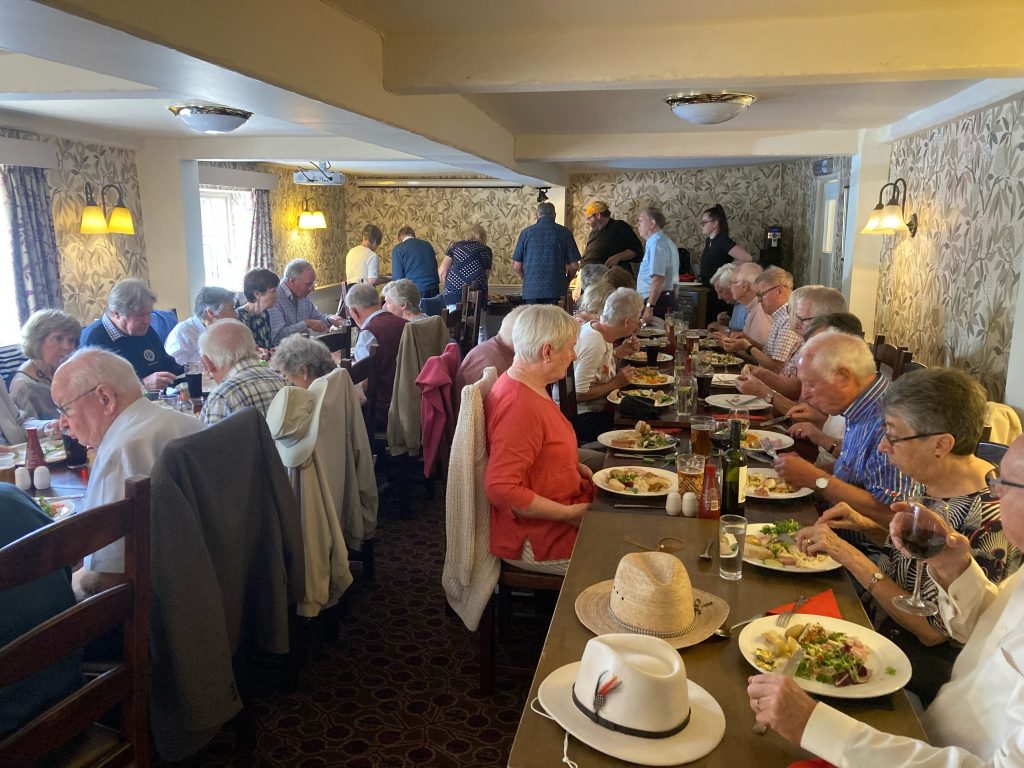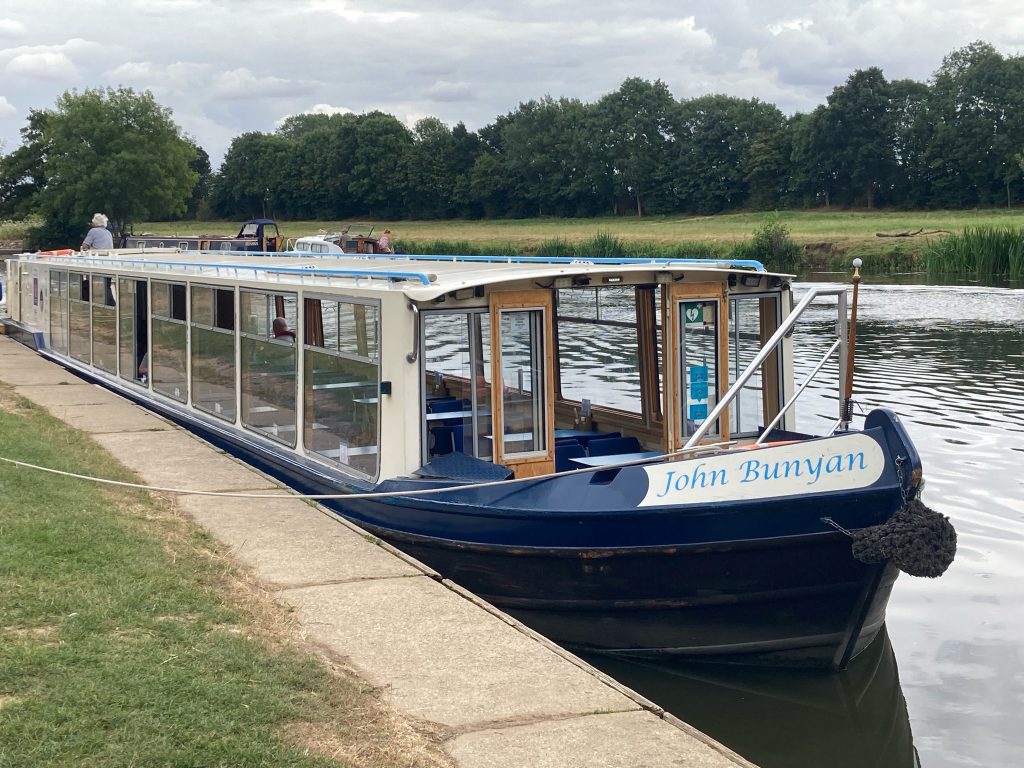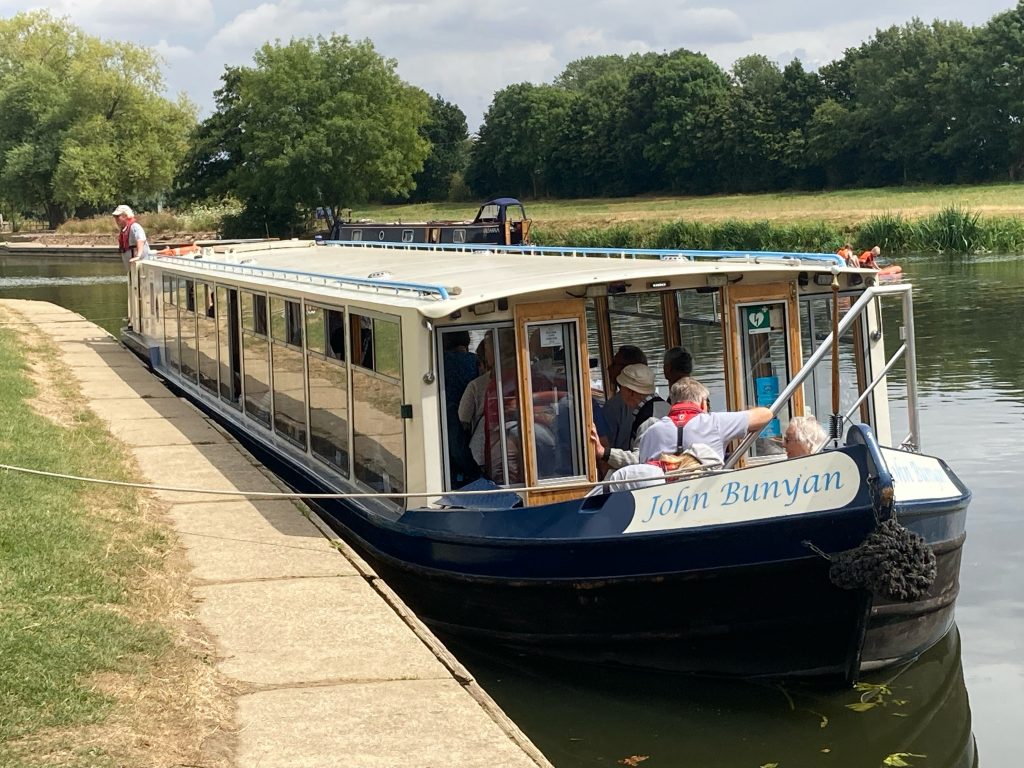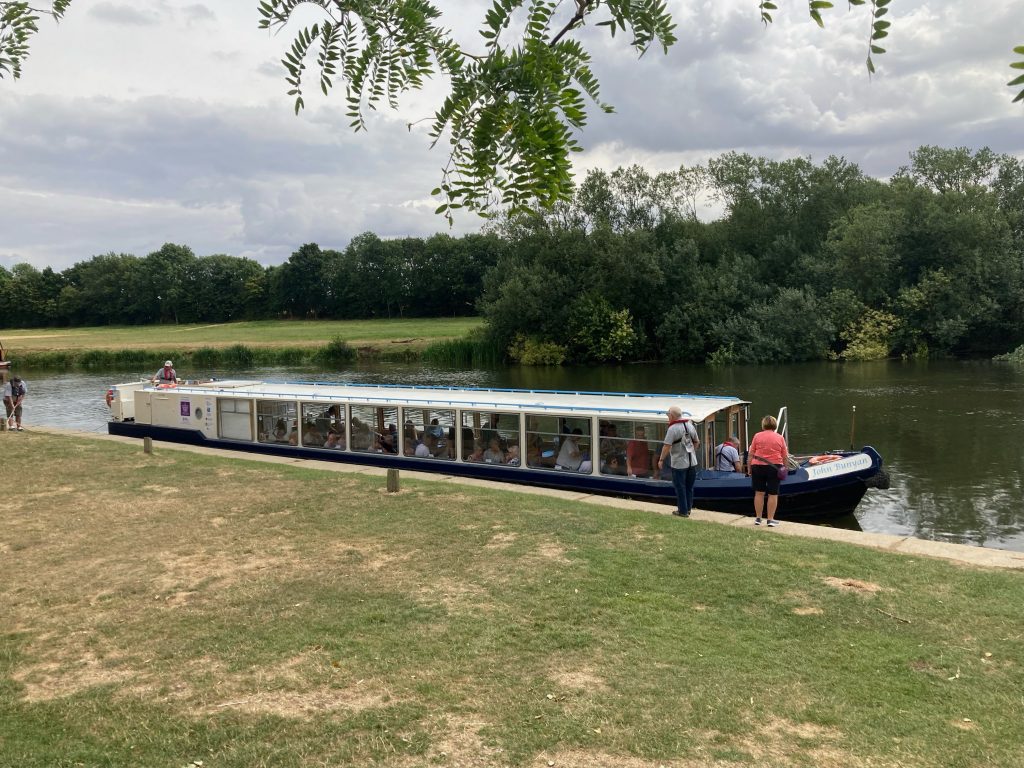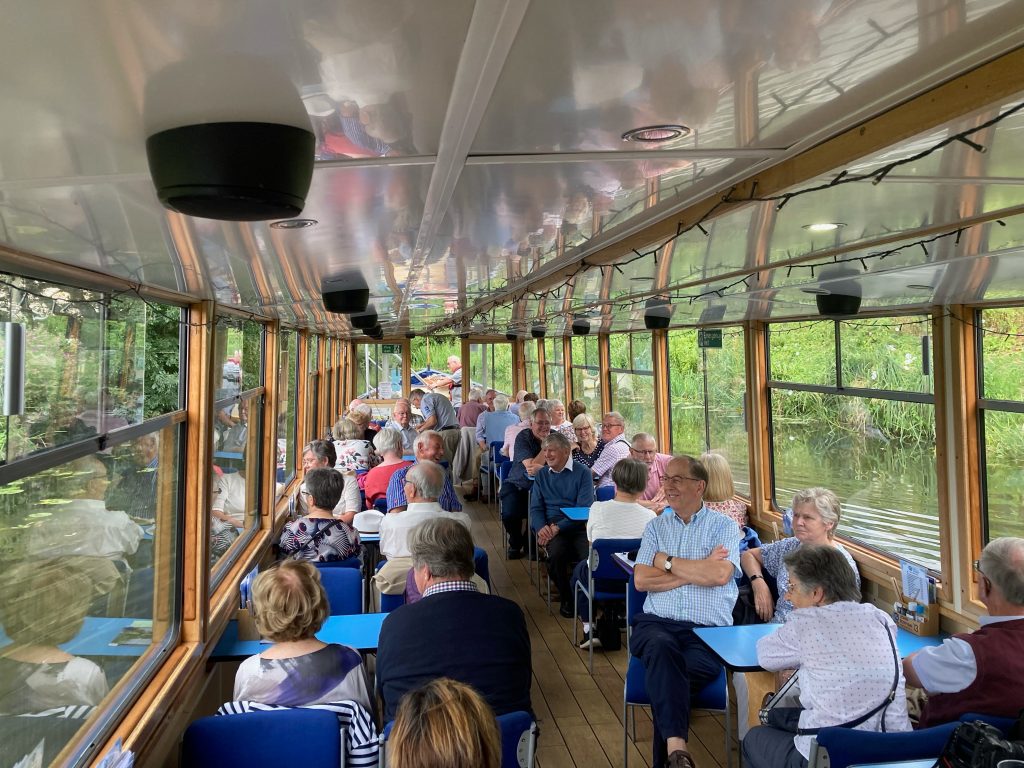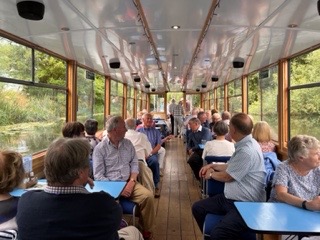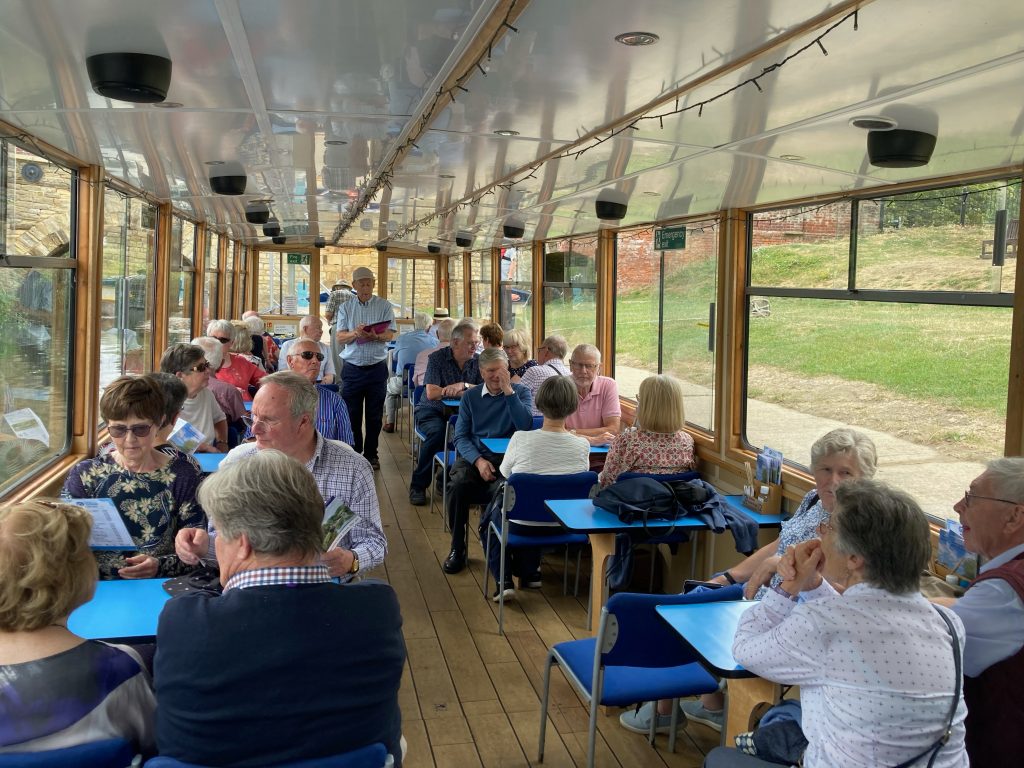 The following pictures were sent to us by Steve Ashley as a record of our trip.  Thank you Steve.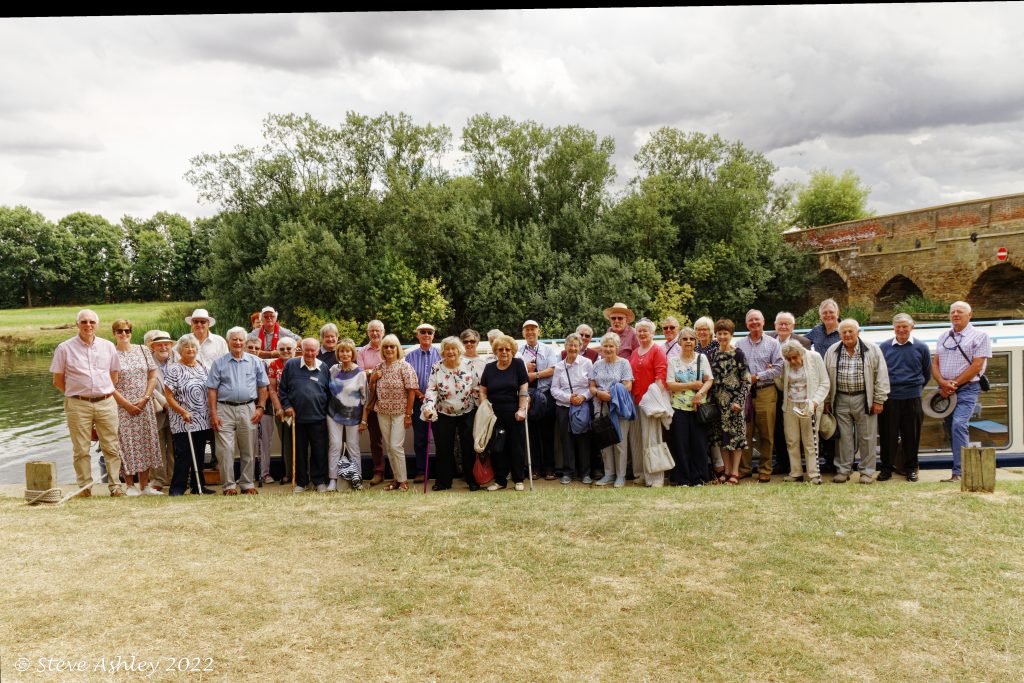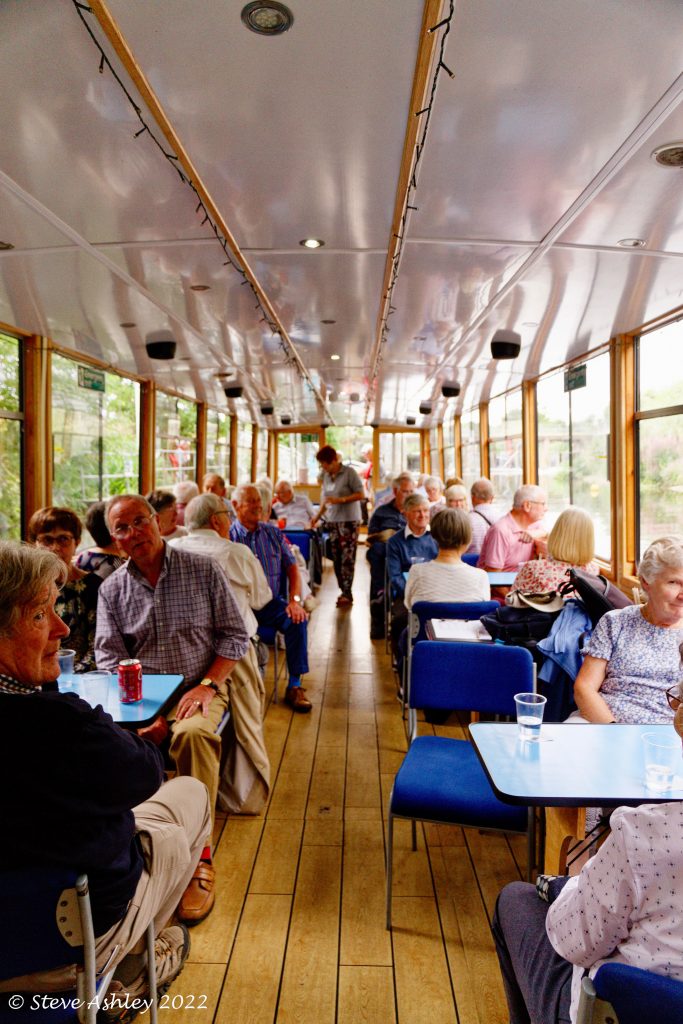 AUGUST
Well we are still in the grip of the heat wave and little or no rain or cool weather in the forecast.  August is the time for our annual Hog Roast, although the dreaded COVID had made it impossible to hold one since 2019. So it was with much anticipation that 38 members and partners assembled at St Neots Rugby Football Club on Wednesday 24 August for the event.  John the Hogmaster and his wife duly arrived with our hog and Jackie and her staff laid on a wonderful salad to go with the pork.  This was followed by fresh fruit salad, strawberries and ice cream and rounded off with tea or coffee and mints.  There was very little conversation during the consumption of the food, but everyone appeared to enjoy the return of this popular event in out social calendar.  Below are some photographs of the event.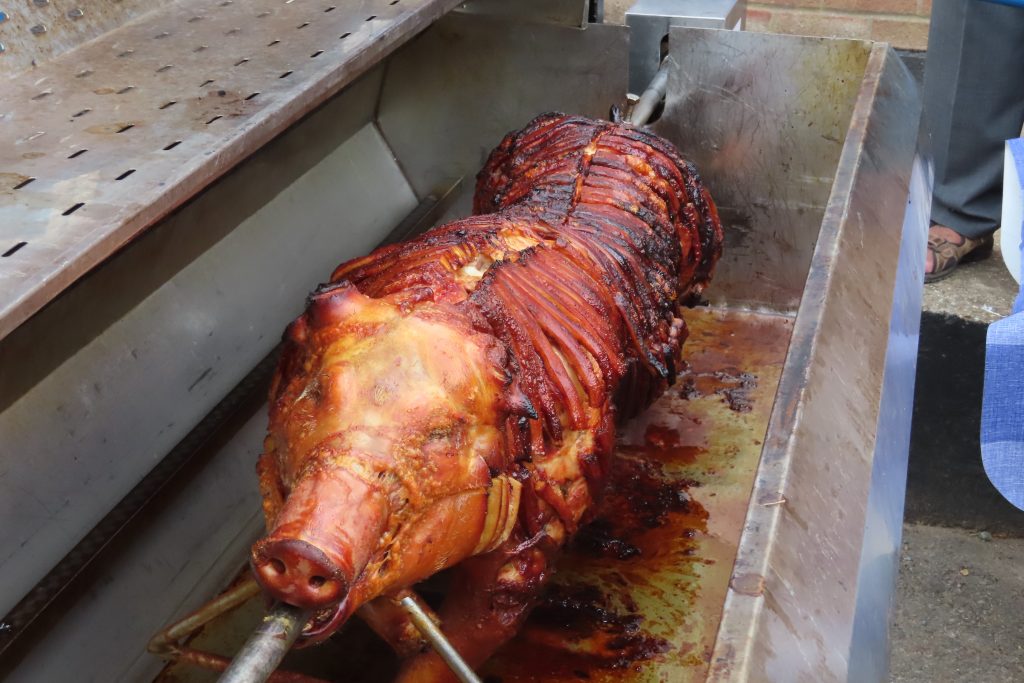 The Hog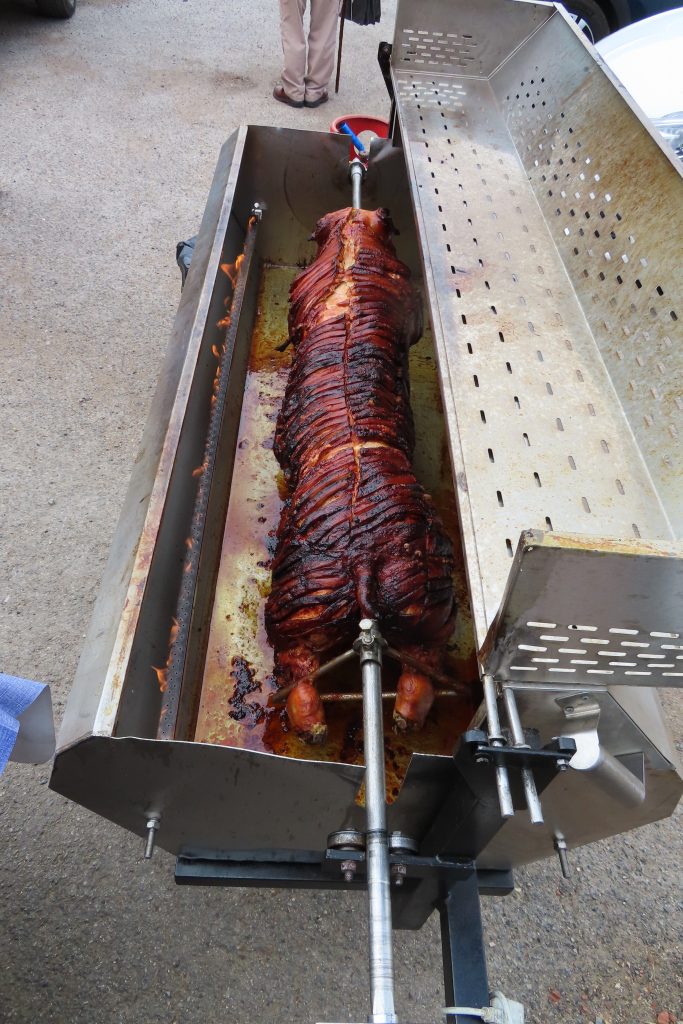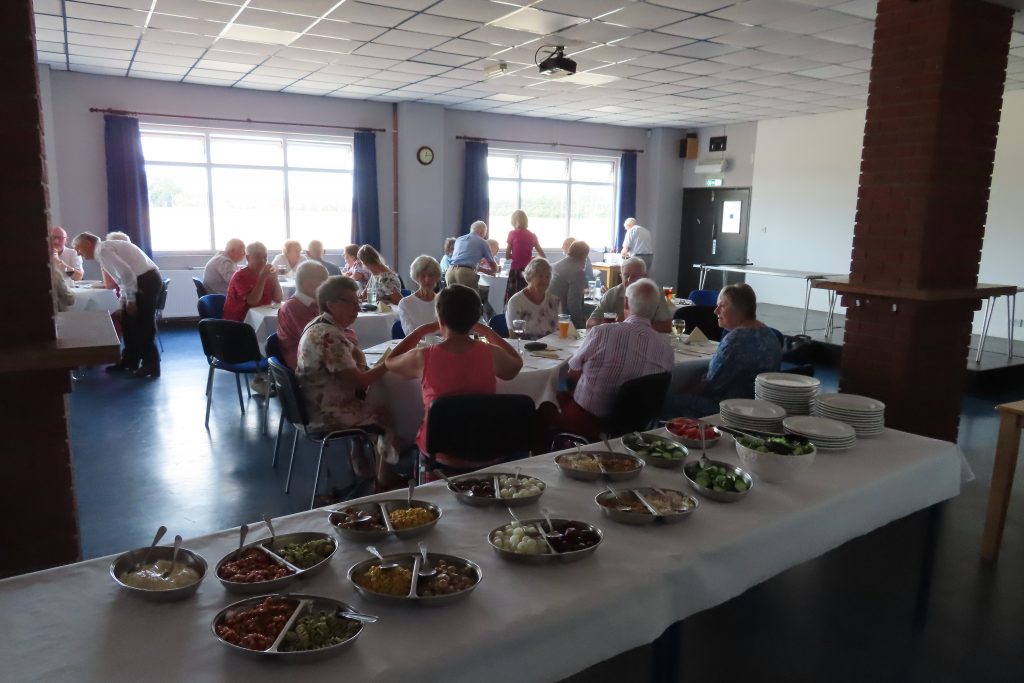 The Salad Bar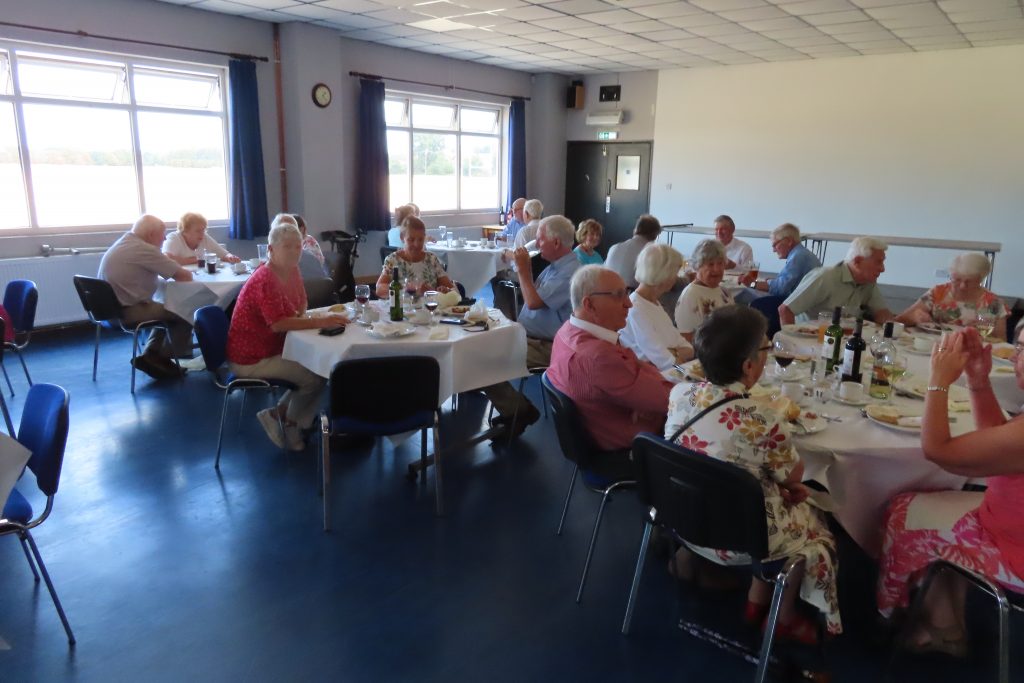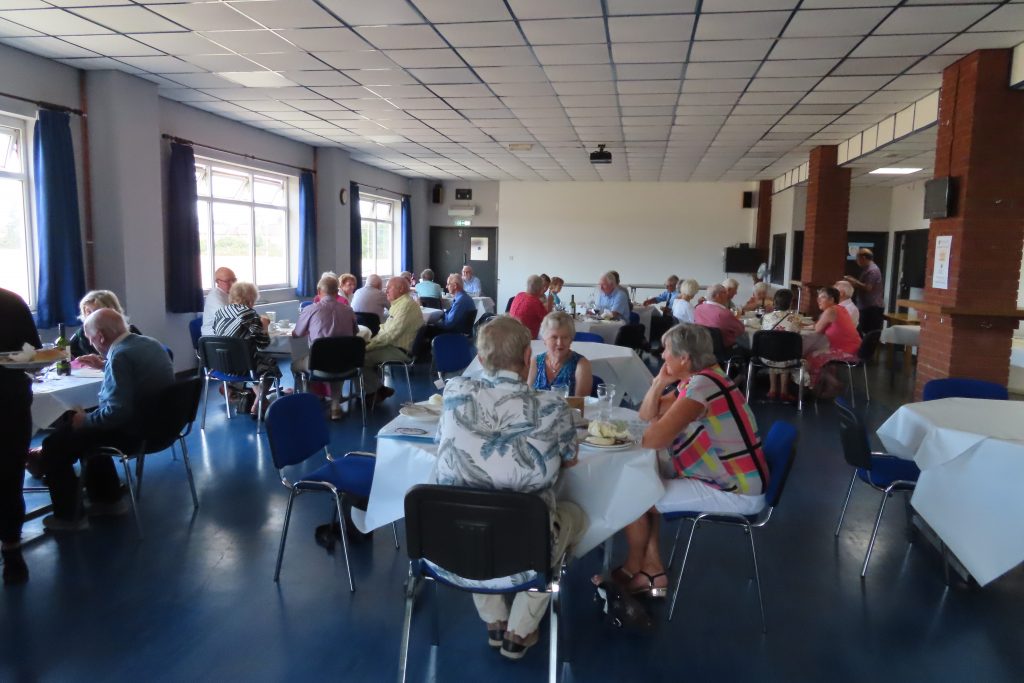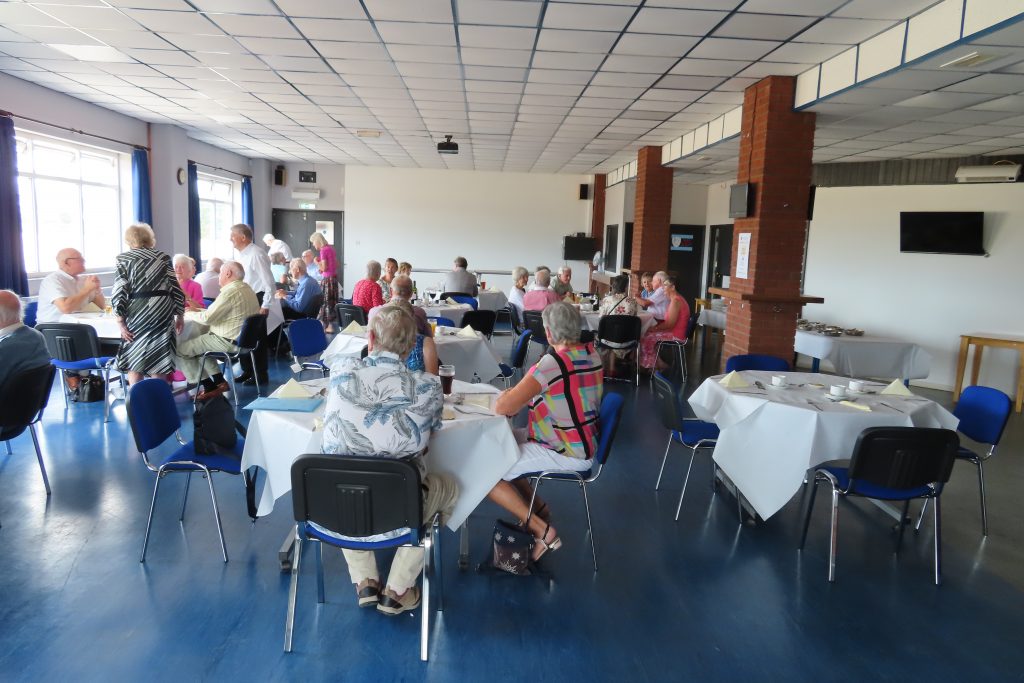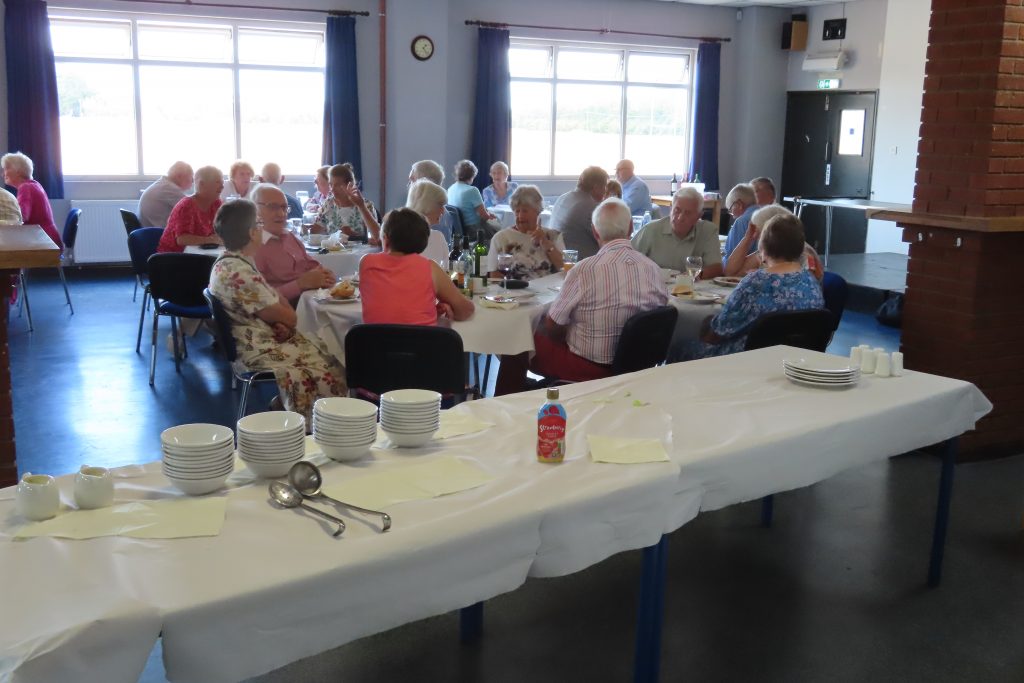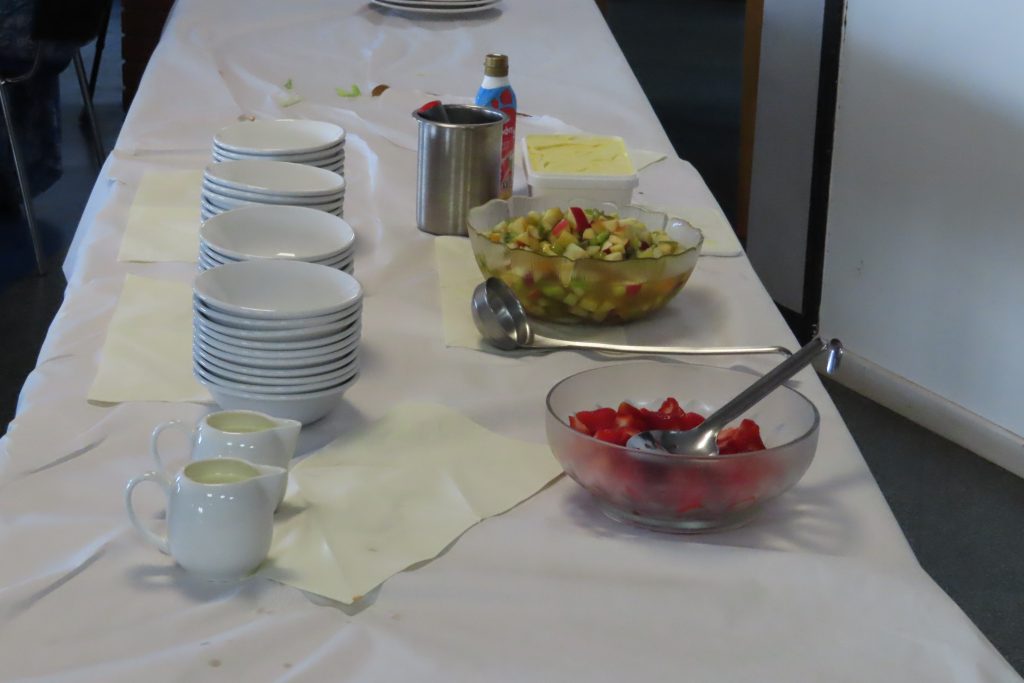 The Dessert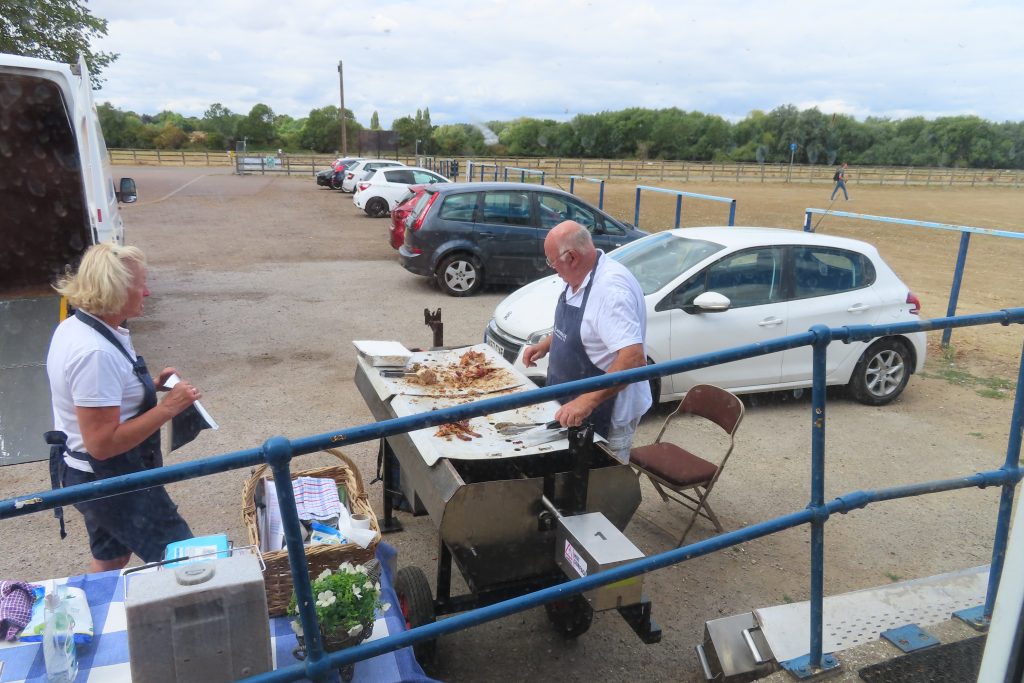 Not Much left!!
SEPTEMBER
The members monthly lunch took place on 7th September in the St Neots Rugby Football Club, where 40 members enjoyed a starter of Prawn Cocktail, a main of Roast Pork followed by Eaton Mess for dessert.  Prior to lunch it was with great pleasure we welcomed our first lady member, our President inducting her into the Club.
The Monthly Coffee morning was held on Wednesday 21st September and 31 attended this gathering to catch up on all the latest gossip.
Our final gathering of September was on the 28th September for the Autumn Carvery. 53 members and partners attended and Jackie laid on a selection of meats (Beef, Turkey, Pork, Gammon and Chicken) as well as a meat pie and lashings of vegetables.  The dessert was either a Biscoff caramel cheesecake (what a dessert this was) or Fresh Fruit Salad, both served with ice cream.
During the event Roger (our Raffle Master) excelled all expectations by selling all his raffle tickets, enabling the Treasurer to exceed his target for monies to support the 50th Birthday Event taking place in November.  Well done Roger!!
OCTOBER
Our normal monthly luncheon on Wednesday 5 October attracted 36 members and 1 guest to the St Neots Rugby Club to enjoy a meal consisting of onion soup to start, followed by cottage pie, roast potatoes, carrots and green beans, dessert was raspberry surprise (another triumph from the caterers).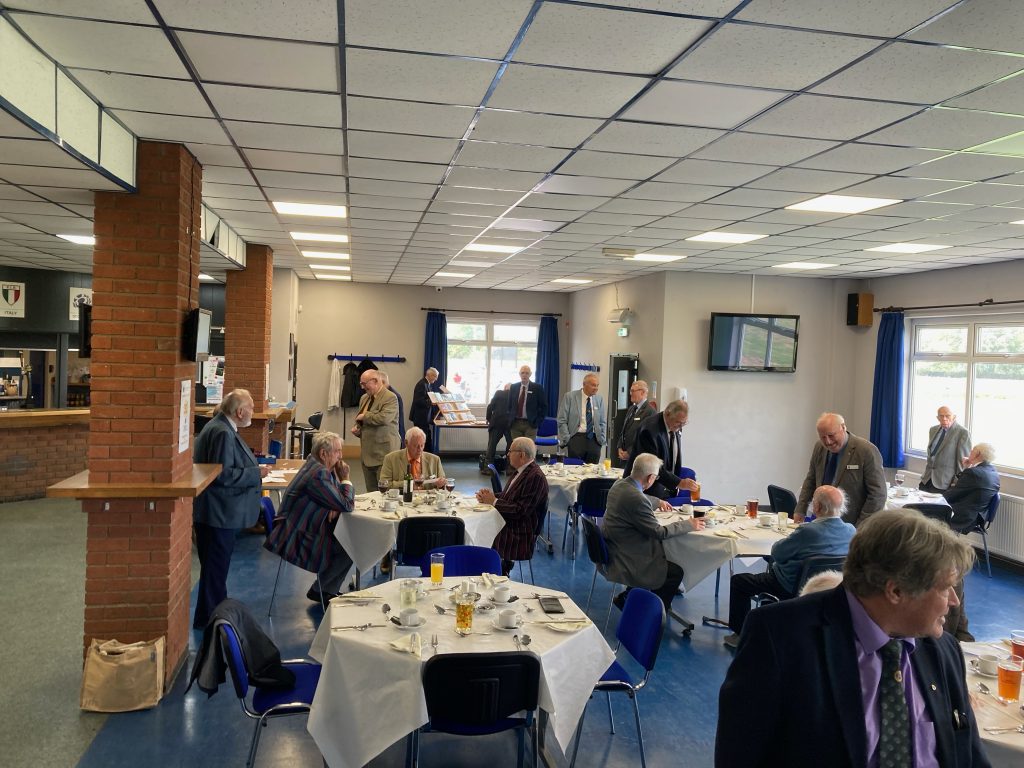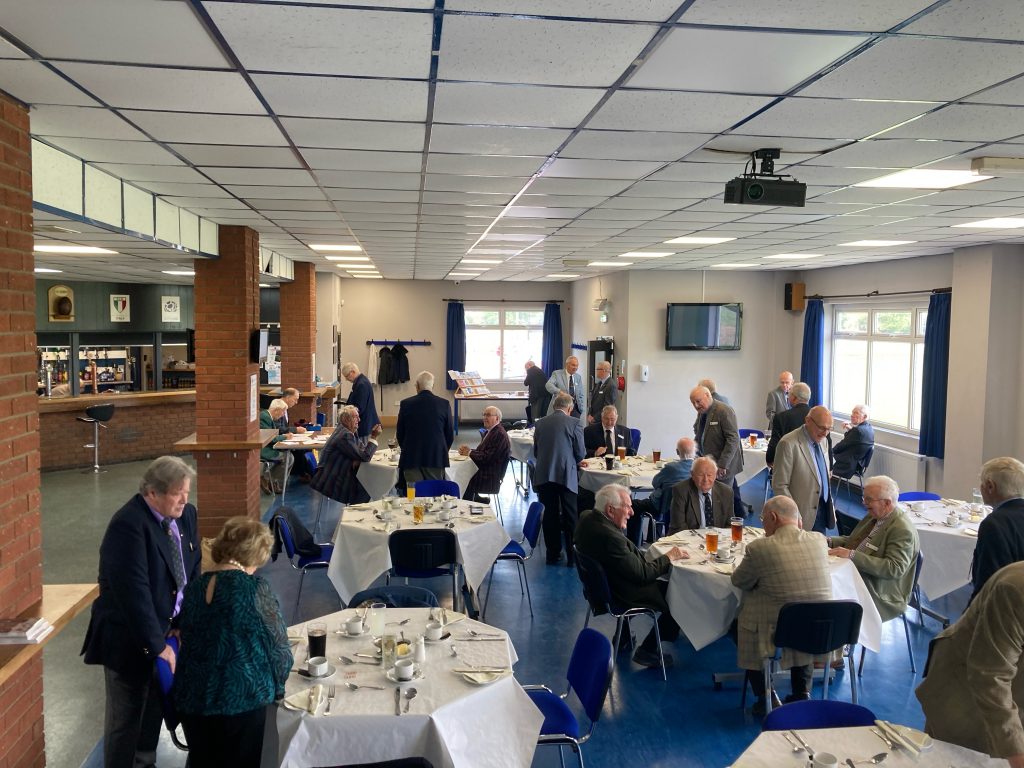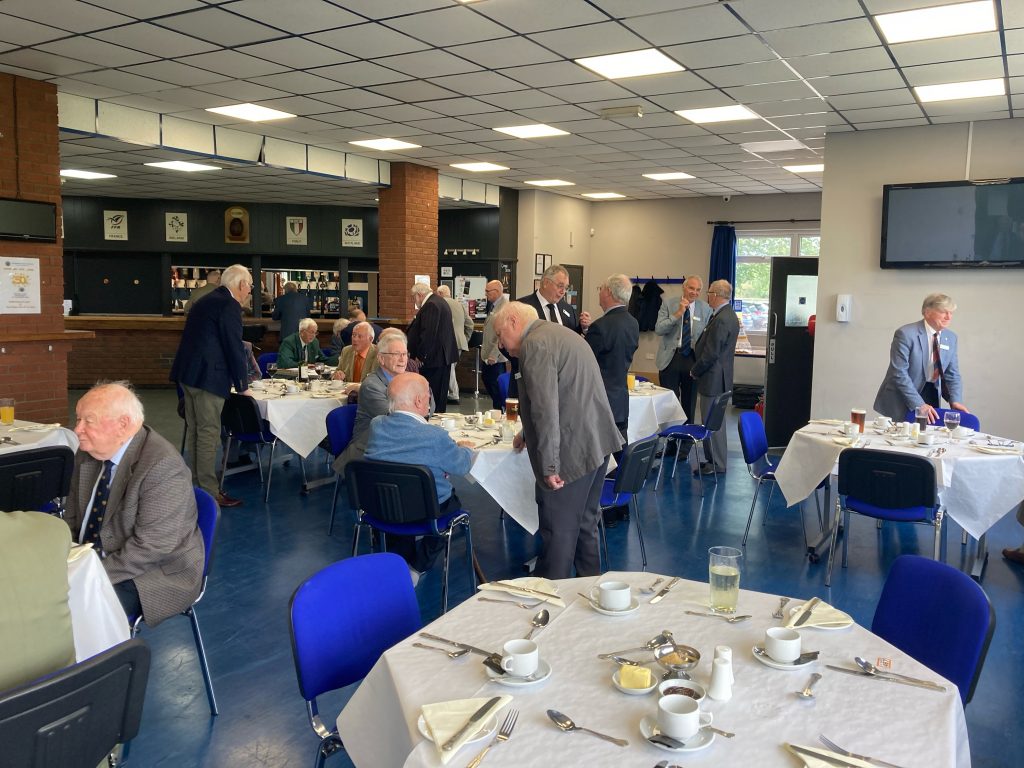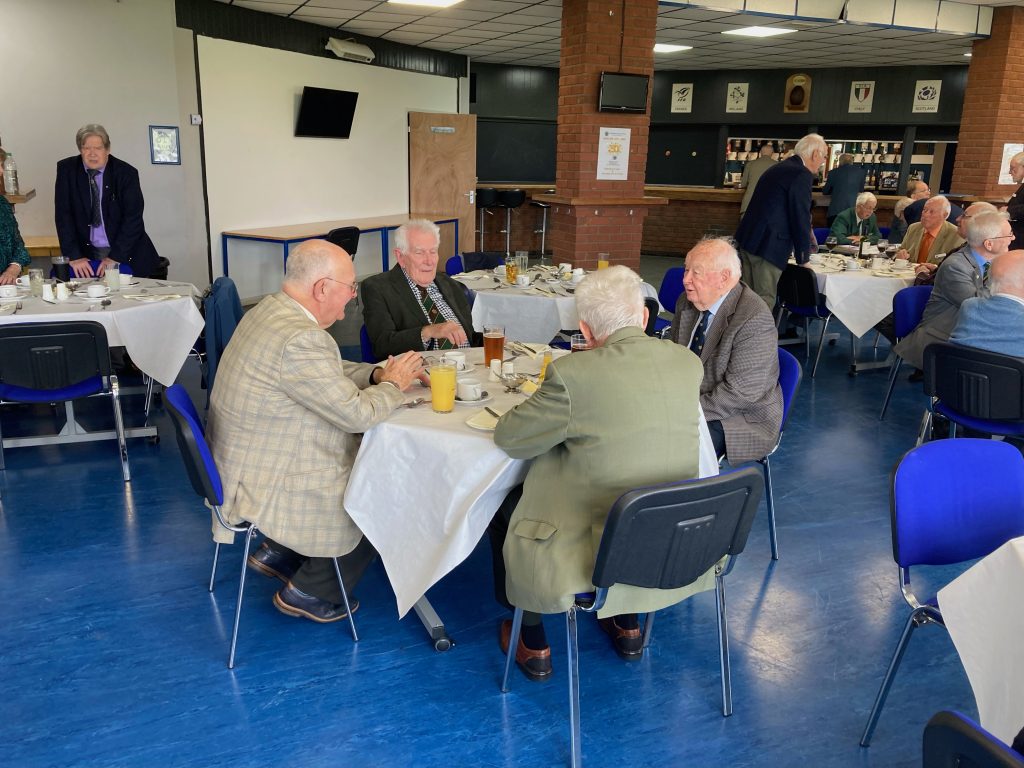 After lunch and before the AGM the Club inducted two new members: David and Margaret were welcomed by those present and we hope will enjoy their time in the Club.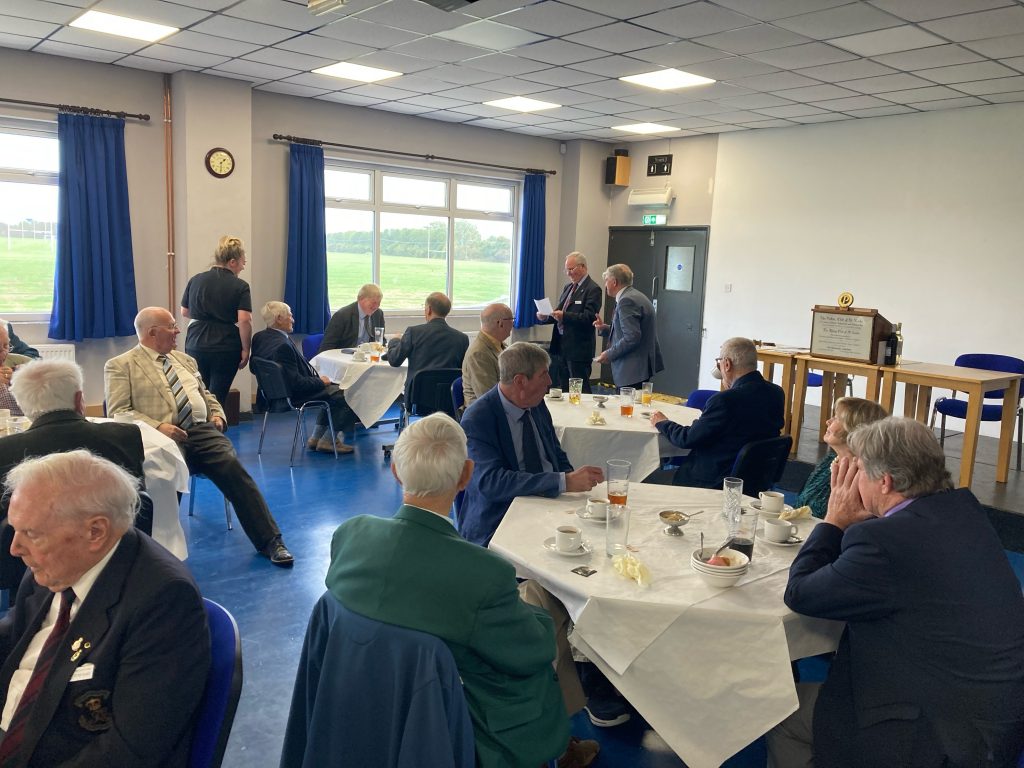 In a break with the normal chain of events the Annual General Meeting (normally held in November) was held following the October Monthly Luncheon because of the 50th Birthday Event which replaces the normal Monthly Luncheon in November.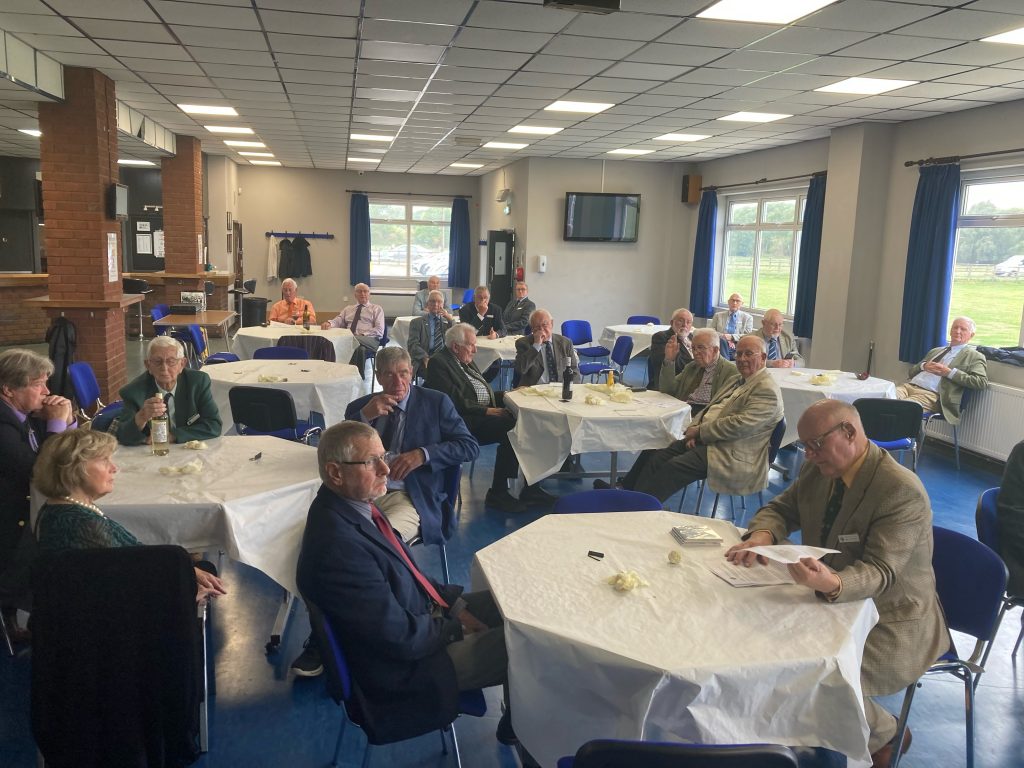 All agenda items were agreed including the new Committee for 2023 who were voted in.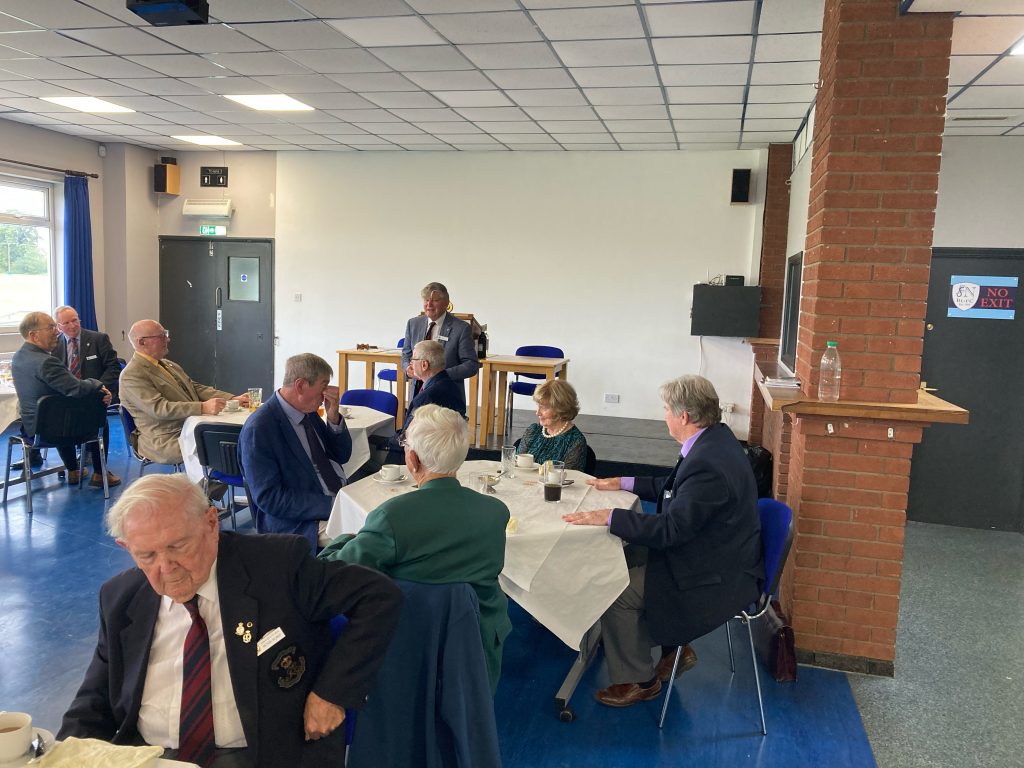 Our outgoing President thanked members and said it had been an honour to serve them.
NOVEMBER
The Club held a lunch in the Lakeview Suite at Wyboston Lakes to celebrate its 50th Birthday.
Please click here to see photographs of the event.
DECEMBER
CHRISTMAS LUNCH
The annual Christmas Lunch took place on Wednesday 7th December in the St Neots Rugby Football Club where members and partners gathered for a festive meal, our last lunch of the year.
COFFEE MORNING
The very last event for the club in 2022 was the Christmas Coffee Morning, held on Wednesday 14th December in the St Neots Rugby Football Club. The extremely cold weather did not put too many people off attending, although there were some who had trouble getting into their vehicles due to the freezing conditions. The event saw 37 members and partners attending with 8 members of the Committee serving tea, coffee and mince pies to those attending.  They even managed a great job on the washing up after the event. This was the last Probus event for Geoff and Rhona who are moving away from the area.  We wish them well in their new home and thank them for their support during their time in St Neots.  The following pictures should hopefully serve as a reminder of the event.