Charity Afternoon Tea.  Sunday 25th June 2023.
Dear fellow members of Probus,
Liz Stuart-Smith (who I am sure most of you know), is fast approaching the end of her year as President of the Rotary Club of Ashford and on the day before she finishes her Rotarians are looking to hold an afternoon tea in a marquee in the grounds of Spring Grove School in Wye.
As most of you are aware Liz has been suffering with bad health throughout her year as President and she has done so without complaining and has been determined to get through her year and do her bit for the needy of our town. Liz has wanted to bring together the three groups that all share Paul Harris as their founder and what better way to do it that have a fund raising event with all the proceeds going to Liz's two chosen charities Cainine Partners and the Kent MS Therapy Centre.
We are therefore extending an invitation to all members of Rotary, Probus and 41 Club along with their partners and friends to join together for an enjoyable afternoon tea at the same time raising money for Liz's charities.
We are planning this event to be held on Sunday 25th June 2023 for a welcome drink at 2.30pm and sitting down for afternoon tea at 3.00pm. Looking to finish by about 5.00pm. The cost for this enjoyable afternoon will be £25.00pp with all the profits going to charity. This will be a great way for us to show our appreciation to Liz for the huge effort she has made to see her year through.
Please let me know if you can join us  and I will get back to you with payment and final details
Kind regards
Val Kennedy
Club Secretary
Partner's Lunch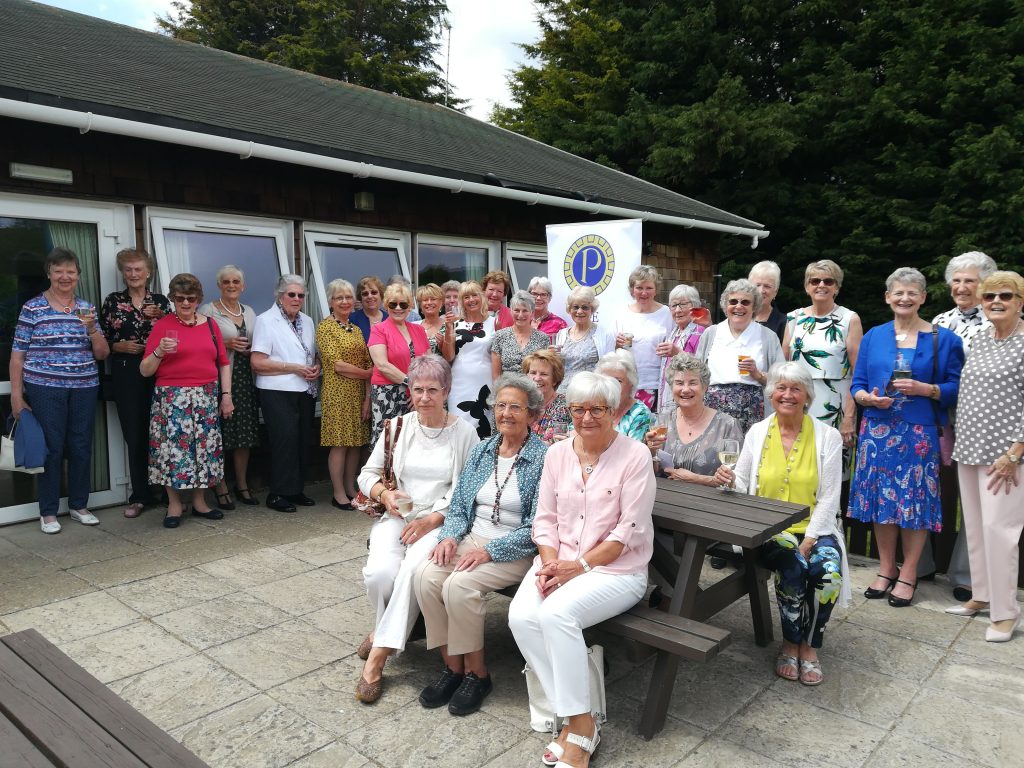 In May 2019, wives and partners joined Ashford Probus Club Members for their annual Ladies Lunch.
70+ diners enjoyed a lovely day and a three course meal at Sandy Acres near Eastwell, just outside Ashford. We are very lucky to also hold our twice monthly Probus meetings here in this beautiful venue set in 15 acres of rolling grass land, with beautiful views over the Kentish Countryside. The photo above shows our Ladies enjoying the sun on the balcony at Sandy Acres.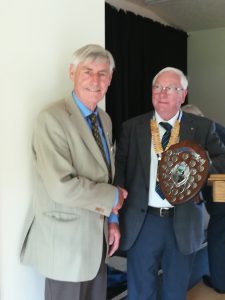 The Ladies Lunch was also the perfect opportunity  for Roger Boreman, our retiring President, to present a cheque to his chosen charity, Parkinson's UK, and for us all to hear about this very worthwhile charity from its local representative.  Also, for Rowland Benstead winner of the Ashford Probus Golf Award to be presented with his award. A very special day was enjoyed by all.