The following is the programme for the end of 2023 and the first meeting of 2024.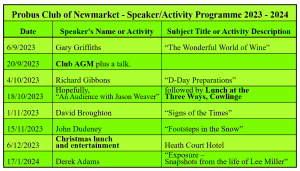 The club meets in the Masonic Lodge, Newmarket with meetings starting at 10.00 for 10.30 on the first and third Wednesday of each month except August.
2021
Meetings postponed due Covid
1st Sept        Mike Petty – "Cambridge History"
15th Sept.    Charles Garland  – "Dads Army – The Nations Favourite Comedy"
6th Oct         Lunch at Hall
13th Oct.      David Caulfield  –  "Semi-Professional in the 60's"
27th Oct,      Karl Smith  –  "The Suffolk Murders"
10th Nov.      Steve Teverson –  " Schaben Redoubt – The Cambs Regiment WW1″
24th Nov.      Peter Cresswell – "Working to Entertain You" (late change to program)
1st Dec.        Christmas Lunch
15th Dec.      Christmas Buffet
2022 
Jan 5th         Jason Middleton – "Gemstones"
Jan 19th        Kevin Boardman – "Sioux Indians of the Plains".
Feb 2nd.        Paul Wesley – "Suffolk Search & Rescue"
Feb 16th.      Alistair Tulloch (Member) ' A Claas of Their Own'
March 2nd.     EGM 
March 16th.    Lunch at Masonic Hall (only – no talk)
April 6th.       Wendy Smith – "Wimbledon Line Judge"
April 20th      Sophie Newton CWGC 'Gardening the World'
May 4th         Paul Hadfield 'Underwater World'
May 18th       Bobby Jackson 'Thoroughbred Sales' TBC
June 1st       Platinum Celebration and Lunch – Masonic Hall
June 15th     Dr Reg Nicholls 'Coprolite & Clunch'
July 6th        Judith Large 'The Hedgehog Hospital'
July 20th      Outside visit – Madingley Hall + optional Lunch
August         No Meetings 
Aug 17th      Lunch at "The 3 Ways, Cowlinge"
Sept 7th      Kevin Boardman 'The Oregon Trail'.

Sept 21st      AGM
Oct 5th         Steven Beach 'The Felons of Newmarket'
Oct 19th        "The Herveys of Ickworth"
Nov 2nd       James Vause ' Economics of Nature'
Nov 16th       TBC
Dec 7th         Xmas Lunch – Heath Court Hotel
Ideas for Outings:   
Visit to Duxford
Wyton Heritage Centre and lunch at Dolphin, St Ives
Boat outing Wicken Fen
Boat Trip from Sudbury on River Stour