WELCOME FROM KENDAL PROBUS CLUB
COMMITTEE:   Chairman – John Parker, Past Chairman – Arthur Moss, Secretary – George Thompson, Treasurer – John Ware, Social Secretary – Nigel Sherring, Speaker Secretary – jointly Michael Wolfenden and Nigel Sherring Almoner – Alan Mason,
Club contact: Nigel Sherring (email jennifersherring@hotmail.com)
Club meets on 2nd and 4th Thursdays most months at Stonecross Manor Hotel Kendal at Noon for 12:30 lunch, followed by a speaker: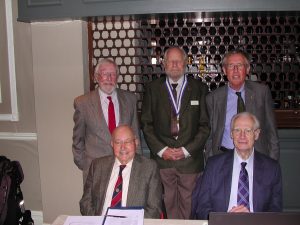 13th June 2019 updated picture of the committee.
January 10th                Chris Taylor – Indian Weddings
January 24th                Helen Clark – Bay Search and Rescue
February 14th              Graham Fell – Astronomy
February 28th              Will/Judy Clay – Fraud Prevention and Scam Awareness
March 14th                  Shaun Jamieson – RAF
March 28th                  Penny McMullen -St John's Hospice
April 11th                    ANNUAL GENERAL MEETING
April 25th                    Jim Bownass – Old Cumberland & Westmorland
May 9th                       Isobel Stirk – Writers in the First World War
May 23rd                     Stuart Atkinson – Tourist Guide to the Galaxy
June 13th                    Geraldine Braithwaite – Botswana
June 27th                    James Smith – Growing well project
July 11th                      ANNUAL OUTING Chester – contact Nigel Sherring for further details
July 25th                      Bill Sharp – A mariner remembers
August 8th                   Penny Driver – Living and Working in a Man's World
August 22nd                Karen Rose – Use it or lose it
September 12th           Hilary Braithwaite – Salvation Army Social Work
September 26th           ANNUAL LUNCH (including ladies)
October 10th               Lynne Temple – Musical Entertainment
October 24th               Roger Bingham – Food
November 14th            Alan Hoskins – Kursk
November 28th            (Speaker and subject TBA)
December 12th           CHRISTMAS LUNCH (including Ladies)
December 26th           No meeting
NEWS
The next meeting of the club will be at Noon on Thursday June 27th 2019 when the speaker will be Mr James Smith whose subject will be the Growing Well Project.
Prospective members of retirement age should contact Secretary George Thompson who can be reached on telephone 01539 723217 . Information about the club can be found on the Website www.probusonline.org and is reached by selecting "clubs", "Cumbria" and "Kendal".
**************************************
March 28th 2019
The Beetham and Kendal Probus Clubs have explored the possibility of amalgamating the two clubs but each has decided to retain its' independence.
***********************************
June 27th 2019
The excursion to Chester on July11th has been cancelled as there was not enough support for it to go ahead.
**************************************
MINUTES
Minutes of the meeting held on Thursday June 27

th

2019
The Chairman welcomed ten members and the Speaker James Smith.
Grace was said by Arthur Moss.
There was no welfare report.
The Minutes of the Meeting held on June 13th were read and approved.
Nigel Sherring said that the trip to Chester would have to be cancelled because of lack of support. He hoped that members would come to the Youth Orchestra Concert in Kendal Parish Church on Sat.29th. The first two pews have been reserved for Probus.
The Chairman introduced James Smith who would be talking about "Growing Well".
James said he had spent a lifetime in horticulture and before starting "Growing Well" he had worked on a Community Garden in Barrow.
Growing Well is a farm based Mental Health Charity operating from Sizergh Farm. Here they grow organic vegetables on 6 acres of farmland with a volunteer workgroup. The volunteers are drawn from a wide area and they are people who have been referred by their GP or mental health group or just put themselves forward to work on vegetable growing as a form of therapy.
Working with Growing Well develops their emotional resistance, gives them an interest and skill in horticulture and improves their physical as well as their mental health. Working as part of a group revives their community spirit and renews their confidence. Some volunteers stay for several months, some longer, until they feel ready to leave.
There are six poly tunnels on the site where a variety of vegetables are grown. There is an annual crop plan, and a weekly work plan to guide volunteers. There are two yurts for training and relaxing. In the growing season local schools visit the site. The Charity also runs training courses and is a City and Guilds centre for learning.
Growing Well run a Crop Share scheme vegetable bags. A weekly share is currently £10 Shareholders can buy more than one share if they wish. From January to May the bags are packed fortnightly or every three weeks, from June to December they become weekly. All produce supplied is grown on the farm and is available for collection from Thursday onwards.
James answered several questions from members before the Secretary gave the vote of thanks.
The Chairman closed the meeting at 2.36pm. The next Meeting will be on July 25th when Bill Sharp's talk will be "A Mariner Remembers".
MIKE'S MUSINGS
Fresh Meat!
Two or three times a year Ann and I travel down the A6 between Kendal and Lancaster to top up with meat for our deep freezes. This might seem a strange thing to do as we are not short of food outlets in Kendal – there are five large supermarkets in the town and a couple of smaller stores together with another two farm shops on the outskirts so that it would seem unlikely that we would have any need to travel to find fresh meat. The reality is that whilst much of the fresh produce is British in origin it is not necessarily local so "fresh" becomes a relative term. We discovered the Lancaster Leisure Park when we were trying to find Kendal antique dealer Annie who had moved to Lancaster – this introduced us to an interesting complex that is centred on the GB Antiques Centre ("GB" = Gloria Blackburn, the wife of the entrepreneur who created the complex) which has around 100 dealers with open premises in the largest antiques facility in the country. The nearby Countrystyle Meats Farm Shop was an eye-opener on both price and quality; the question of freshness is almost irrelevant as the meat sold is all local and much comes from the Auction Mart and Abattoir which are on the opposite side of the site – the quality is first class and well worth the journey of 25 miles each way. A bonus is the Countryside Kitchen and Restaurant, next door to the Farm Shop, that is equally impressive and is the icing on the cake for our visits.
The A6 used to be the main western trunk road to Scotland but with the building of the M6 it is now relatively lightly used but it passes through pleasant country – after leaving our local lanes at Levens the road passes through Milnthorpe, Carnforth, Hest Bank and Slynne, skirting Morecambe Bay, before entering Lancaster on a road flanked by attractive buildings before crossing the River Lune. Local knowledge kicks in at that point as it is important to position the car in the right lane to reach the intended destination. This is even more important when travelling homeward as being in the wrong lane could easily turn into an unwanted tour of the White Lund Industrial Estate! We tend to prefer the A6 to the M6 as whilst it may be slower we can both enjoy the scenery in safety. Over recent years we have driven on the A6 on many occasions as one of the hospitals in the Morecambe Bay Universities Trust is located in Lancaster and various medical problems have pushed us in that direction quite a few times. We registered with an NHS Dentist in Milnthorpe several years ago and trips along the upper section of the A6 route were quite frequent but my needs were always diminishing and this year saw the departure of my last tooth reducing my visits to one annual check-up.
Going back to the Antiques Centre the range of items was, as always, very impressive and I was interested to see an old Imperial typewriter which was identical to the one on which I was taught to touch-type back in 1949 – three weeks after starting I could type at 66 words per minute. This skill has remained in place ever since, for which I am grateful. The poor old machine looked really sadly neglected and a quick examination showed that whilst pressing the keys caused the associated type face to hit the platen nothing else was working and it hardly justified the price being demanded – I was certainly not interested in restoring the machine to working order!
**********************************
Taken from Amir's Fun Page in the Penrith & Kendal Advanced Motorist's Newsletter
Customer:  I've been ringing 0800 2100 for two days and can't get fhrough to enquiries, can you help?
Operator: Where did you get that number from, sir?
Customer: It was on the door to the Travel Centre.
Operator: Sir, they are their opening hours!
****************************
The Selkirk Grace
Some hae meat but cannae eat
an' some wad eat that want it,
But we hae meat and we can eat
an' sae the Lord be thankit.
(Robert Burns)