South Bucks & East Berkshire Probus Club has suffered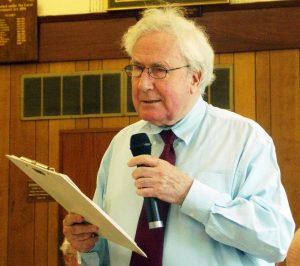 a devastating blow with the loss of its guiding light of many
years, as Ken Pike has passed from us.
Ken, president for 2001-2002, was regarded as the backbone
of the club throughout his many years as a member; a lengthy
spell as secretary meant that he was accepted as the fount of
all knowledge of the club's previous proceedings and, indeed,
it was at times when protocol needed clarification that Ken
was the first resort to turn to.
A keen stamp collector and with a professional life in broadcasting, Ken was surprisingly disdainful of modern technology – he much preferred 'hard copy' (with three carbon paper copies as backup) wherever possible. That said, it was with much interest that members anticipated his appearance at the club's Christmas lunches, as Ken's flamboyant jackets were often the focus of attention.
The celebration service for Ken's life was filled with love and appreciation from all present; affectionate eulogies were filled with entertaining tales of family adventures and friendships formed. Ken's final departure was marked most appropriately with John Sousa's rousing Liberty Bell March – more recognisable to the congregation as the theme from Monty Python's Flying Circus.
Goodbye, Ken and thanks for all the memories.
Richard Mills
Secretary S.B & E.B Probus Club
">