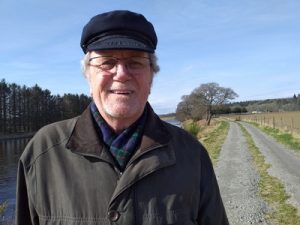 Stan Thomson
Secretary, Banchory-Ternan Probus Club
We in 'Banchory Ternan Probus Club' hold our meetings at 10.00am for 10.30am on the second and fourth Tuesdays of each month except for July, August and December, in the 'Ravenswood Country Club' / 'Legion Scotland', Ramsay Road , Banchory, AB31 5TS – 17 miles South West of Aberdeen, Scotland. We have a break during July and August, 
Our sister Probus Club in Banchory, 'Banchory Ternan Ladies Probus Club' folded during 2022 and we changed from being a Gent's Probus Club to a joint Ladies and Gents Probus Club
We have now moved on from Covid and meet face to face normally, but when the speaker is a distance away we use 'Zoom'.
In December we have one meeting, on the second Wednesday, after which we have our Christmas lunch with our spouses and partners.
We have 49 x full members at present, comprising of 9 x ladies and 40 x Gents. We also have 3 x Associate / Honorary, members.
We have three walking groups within our club – the 'A' Team who walk every 1st, 3rd and 5th Tuesdays of the month and who average 10 miles on their walks, the 'B' Team who walk every Tuesday and average 5 miles. We also have the 'C' Team, which I am a member of, and we don't walk at all, apart from the car into the hotel for tea / coffee and a biscuit. We in the 'C' Team are all former members of the A and B teams
There isn't much more to say about our club except that we are a very friendly and sociable bunch of guys and gals, and, like all Probus clubs, the members have had a multitude of varied careers.
So, from Banchory Ternan Probus Club, please stay safe everyone, and, if you are in the area please do contact me and come along to one of our meetings, if you are able.
Kindest regards,
Stan Thomson, Secretary, Banchory-Ternan Probus Club, Aberdeenshire, Scotland
Tel. No: 01330 825098, Mobile: 07854 987656 ; e-mail: stanthomson@hotmail.com
">