The Ashby-de-la-Zouch & District Probus Club is a friendship club for retired professional and business men. We hold regular meetings with talks from speakers on a variety of topics and enjoy lunch together, organise social events visiting local places of interest, hold formal dinners to which partners and members from nearby clubs are invited and participate in joint activities with sister PROBUS clubs.
Recent visits have been to Ulverscroft Grange to see a large model railway, Spring Wood to see the bluebells and Snibston Colliery. Each event is chosen for a balance between technical content, accessibility for our members, and choice of food.
50th ANNIVERSARY CELEBRATION
Our Club celebrated its 50th Anniversary on Saturday 18th November. To mark this special occasion, held at Willesley Park Golf Club, not only was a dinner enjoyed but the evening concluded with an excellent string quartet.
The special guests were Dr. Paul Cook, President of Ashby Rotary Club and his wife Vicky. It was Rotary Club members who were responsible for the founding of the worldwide Probus movement in 1965 and Ashby Rotary members who instigated the formation of the Ashby Probus Club in 1973.
Other guests included members from Ashby Castle Rotary Club, Ashby and Coalville Lions Club and from Melbourne and Castle Donington Probus Clubs.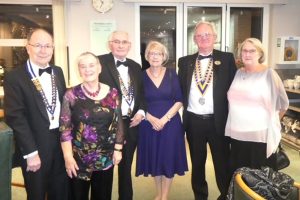 Margaret and Chris. Boyd, President of Ashby Probus Club (centre), together with Mary and Alan Cuff, Vice President (left) are pictured with special guests Vicky and Dr Paul Cook, the President of Ashby Rotary Club.
ANNUAL CHINESE MEAL – As usual we started the year with an evening at a local Chinese restaurant and celebrated the Chinese new year.
VISIT TO BOTT – Ashby's very own local van outfitters – the business has operations around the world kitting out new vans to meet the storage and operating needs of the van owners. It was fascinating to see the "assembly line" and observe the fitters building up the modular units inside the actual vans.
CLAY MILLS PUMPING STATION – a Victorian pumping station that used to remove sewerage from the breweries in Burton on Trent, now looked after by a preservation group. Members were not able to see the pumps in operation at this time as it takes 24 hours to get the engines up to temperature.
SUMMER LUNCH – This year we went to Donington Manor Hotel where we had an enjoyable three course meal. On this occasion we were joined by guests from other local Probus clubs.
JOINT ACTIVITIES WITH LOCAL CLUBS – We typically participate in activities annually with a couple of local clubs. Events have included a Garden Party in the grounds of a local church, a CROQUET competition including lunch and a QUIZ night with buffet supper.
Further Information about Us:
We meet at the Beeches restaurant and hotel Burton Road, Ashby-de-la-Zouch LE65 2LP 11:00 am, usually the first Monday of each month. If you would like to learn more, please contact: