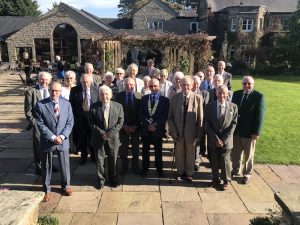 Members, wives and partners enjoyed the annual Chairmans Lunch at Ferrari's Country House Hotel & Restaurant. Set amidst the peace and tranquillity of the beautiful Ribble Valley, a mile and a half outside the charming village of Longridge in Lancashire, the hotel is a perfect venue. The Chairmans Lunch marks the first event with our new Chairman, Bernard Croft.
The photo (right) shows our new chairman being congratulated by our long time treasurer, Derek Taylor.
The wonderful weather and the excellent food made it a great start to Bernard's new season. His first job is to give members a talk on his trip to Japan! In at the deep-end!