Thirty golden years have passed since the November day in 1984 when an inaugural meeting held in Purley resulted in the formation of a local Probus Club.
Following the example set by the long established Caterham Probus Club, the aim of the founding members was to establish a regular meeting point for retired business and professional men, particularly those who, in their retirement, would appreciate increased social contacts and the opportunity to meet others in similar circumstances.  In this they have splendidly succeeded and the Club prospers to this very day!
The Club has been fortunate over the years in having a long succession of competent and enthusiastic Chairmen, admirably supported year on year by an equally devoted and able Committee.  Over the past thirty years there has been a monthly luncheon at the excellent Purley Sports Club – only once has the Luncheon been cancelled (and that on account of bad weather).
A varied and interesting programme of social events has been organised each year and, on the whole, has been well supported by the membership.  In the 1980's , the membership of the Club was fixed at 70 (not including Honorary Members).  Presently there are 39 regular members.  Our monthly luncheons continue to be well supported, as are our Ladies' Lunches – and members' guests are always welcome.
The monthly luncheons are invariably lively affairs with a constant buzz of conversation and laughter, and enlivened by a well organised and selected programme of 'after lunch' speakers – on a multitude of interesting topics. 
The Club remains what it has always been – a gathering of retired professional and business men, loyal to a well established and well regarded local organisation – evidenced by the cheerful photograph of the current committee taken at the recent 30th Anniversary Dinner!!
Alan Jessop
December 2014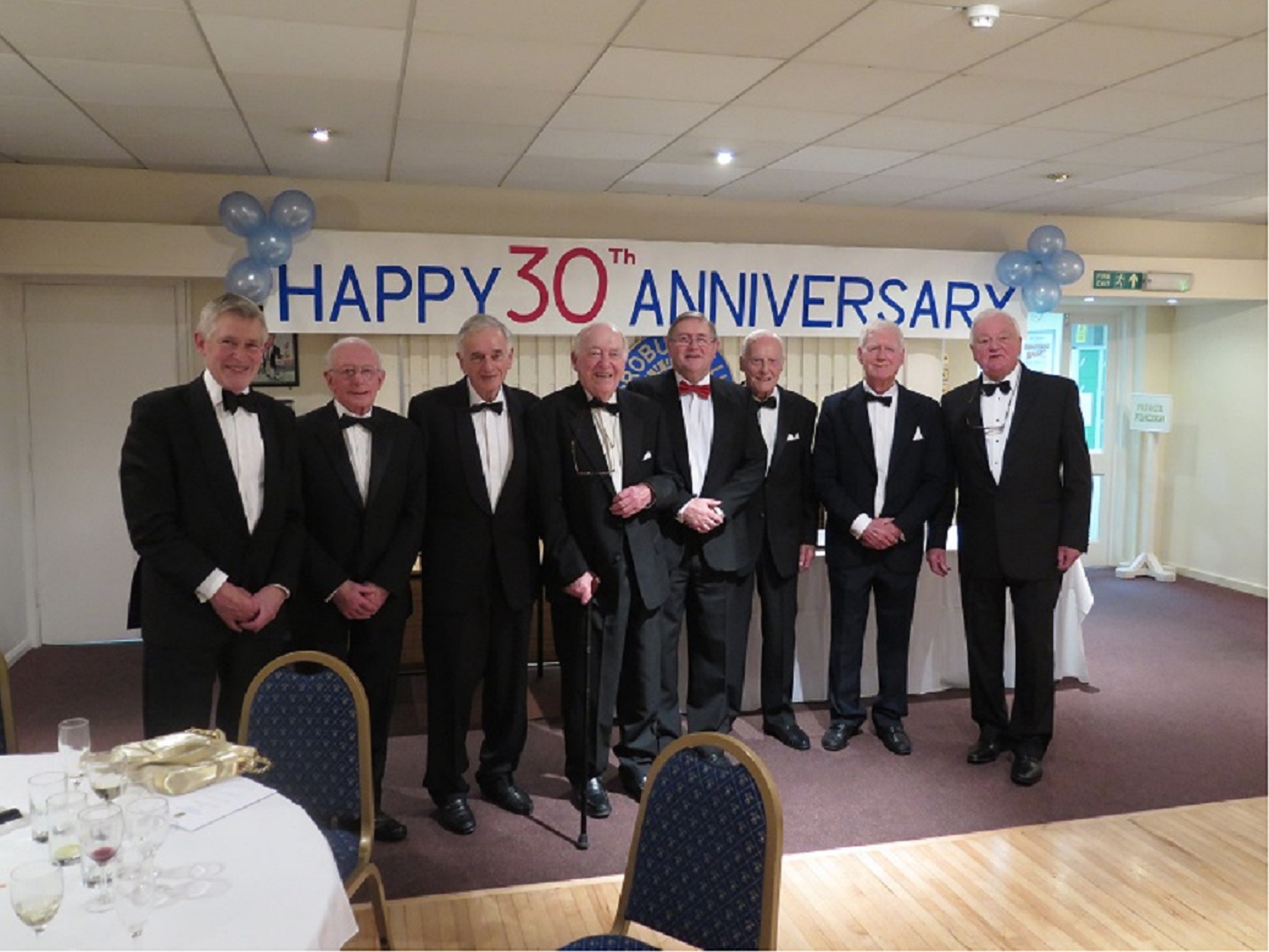 From left to right: Peter Holmes, Alan Smith, Russell Pullen, Alan Jessop, Andrew Hudson, Alex Winkley, Owen Kelly and Paul Allard.